Experiences of  with Mehera Kerawalla (Arjani) Meher Baba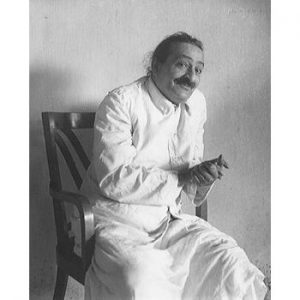 Interviewing Mehera Kerawalla truly humbled me. She had suffered a major brain stroke and when I met her in January 2020, she could barely talk. It was very difficult for her to articulate words. She walked towards me slowly. Her left knee was in constant pain. Through the interview, I could see her struggle to find the right words. She still went about her life and managed her work independently. The interview took a long time, as Mehera would halt, trying to speak the words aloud and then she would lapse into long silence.
   "Your parents knew Meher Baba well and they were staunch devotees of Meher Baba?"
   "Yes…they followed Meher Baba."
    "Meher Baba named you as Mehera?"
    "Yes. He named me, Mehera. I grew up in front of Baba. I used to continuously meet Meher Baba. He loved me a lot. He loved me a lot."
   "What is your first memory of Meher Baba?"
   "When I was six months old and I can still remember that meeting."
   "Really?"
   "Yes." Mehera looked deep into my eyes. She found it difficult to speak but she could communicate with her eyes. She dared me to disbelieve her. I smiled.
   "What happened during that first meeting?"
   "I remember, Baba sitting on the chair and I was sitting on the floor…no, I was lying on the floor. I remember this very well. Then, as a small child, I went with Him to the botanical gardens constantly." During our talk, Mehera must have repeated the words, botanical gardens, at least five to six times. It was, as though the memories of her spending time with Baba in those gardens were imprinted in her heart and mind. Eruch maama, Meherwan kaka and ofcourse Dadi kaka were constantly there with Baba and me at the botanical site. I also spent a lot of time with Mehera mai but in Bindra House."
I realized that Mehera was getting emotional. She so desperately wanted to talk about Baba but her body would not co-operate. She struggled to get every word out; her mind had the impressions and memories but the words would not find themselves come forth aloud. Her eyes were filled with tears. It was twilight time. The bungalow which must have seen so many guests and Baba lovers was deserted but for a lady caretaker. Dogs barked outside. Mehera struggled for the words but her love for Baba came forth and that is all that matters to me. So many Baba devotees, who had met and spent time with Baba, had refused to be interviewed for the book, as they felt that they had spoken enough on Baba. Here, was this lady who was struggling to get every word out of her but still kept at it. For me, all interviews on one side, I feel this was my most important interview of this book. Mehera showed me how Baba was truly to be loved.
   "What does Meher Baba mean to you?"
   "Love. Yes……love."
   "Do you feel His love constantly with you?"
   "Yes. Yes."
   "You stay alone now?"
   "Yes." After a while her eyes lit up. "With Baba."
   "Were you present when Baba dropped His physical body?"
   "Yes. I was present for all the days."
   "What went on within you, knowing Baba had dropped His body?"
   "I was elated that He was now everywhere. He was available to all, anytime. There were no walls separating Him from each one of us. We did not have to take time to see Him. No more worrying about Him being in seclusion. He was everywhere now. Yes. Yes. He is everywhere and always with us. So, I went and stood with the devotees."
   "You were ten years old at that time?"
   "Yes. Now, I don't remember what I did those days but I remember that I sat in the Samadhi and I fanned Baba?"
   "Did you cry?"
   "No. No. He was everywhere now. I felt Him deep in my heart."
   "What about your parents?"
   "My parents…, my father was away at sea. My mother was there along with my grandmother and my grand aunt…..they all were there."
   "Was Meher Baba very strict?"
   "Yes; but also loving."
   "Did He ever scold you?"
   "Yes." Then, Mehera did something that melted my heart. She began to giggle like a small girl and then began to laugh. "Once, I was very naughty and so, He told my aunt, whatever happens, not to hit me. They could scold me but never to hit me. Then, I again disobeyed Baba."
   "Oh, so you disobeyed again?"
   "Yes. He was strict, very strict but most loving."
   "Did you get scared of Him….of His strictness?"
   "Yes. Once, I was not allowed to meet Him for three days. Not until I was repentant and…….."
   "You were truly sorry?"
   "Yes. Only then could I go and meet Him again. I said to Baba, 'I am sorry, I am sorry'. He first made me bow down and then He embraced me and told me to keep on embracing Him every time."
   "Did you embrace Baba whenever you met Him?"
   "Oh yes."
   "Does Baba come in your dreams ever?"
   "Yes. He comes in my dreams."
   "What does He do in your dreams? He blesses you?"
   "Nai."
   "What does He do in your dreams?"
   "He appears to be with many people."
   "You know those people?"
   "Yes."
   "All the old timers?"
   "Yes."
   "Is He happy in the dreams?"
   "Yes…..yes…… and in the dreams, I appear small."
   "Is there any particular incident with Meher Baba which is close to your heart?"
   "I remember when He was in the Samadhi. I fanned His body. I remember the peace and the happiness in Him and that peace and happiness entered me to."
   "I spoke to you the other day and you told me that you were at work. Do you leave the house for work?"
   "Yes, I sure do. I go to the Samadhi, Dhuni, Meherazad also. I had a brain stroke four and a half years ago. That is why I speak slowly now."
   "Were you upset with Meher Baba when you got the stroke and…..?"
   "No no. Not upset at all with Baba. Never upset with Baba."
   "You love Him a lot, don't you?"
   "Yes," she spoke with strong conviction and affirmativeness.
It was spoken with such strong conviction that we both began to laugh.
Be blessed always.
Jai Baba. 
Ruzbeh N. Bharucha
I would like to believe that every word that has poured forth, has come through the unbound grace, love, mercy and compassion of Avatar Meher Baba. I would also like to thank my sister Jennifer Bharucha, Jimmy Khan, Mehernath B. Kalchuri, Roshani Shenazz and Jennifer Keating, who have been instruments chosen by Baba, with whose help these interviews have been made possible. I would also like to thank Jimmy Khan and Cyrus Khambata for their invaluable editorial inputs. Be blessed always. Jai Baba.